Aston Martin. The name itself instantly stirs thoughts of luxury, timelessness and impeccable style. The British automobile brand might be best known for its iconic supercars but has also become synonymous with flawless homeware. After teaming up with esteemed silversmith Grant Macdonald and lending its name to an oeuvre of stunning tableware and home accessories, Aston Martin's impossibly high standards are now recognised in both the garage and the home. Exhibiting the best of what British design has to offer, the collection's inventory list – crystal, sterling silver, rare ruthenium, gold (24-carat, of course) – is as luxurious as the cars it's influenced by.
An impressive legacy
It's hard to believe that such a world-renowned brand was once just a two-man band working from a small workshop in London. The automotive powerhouse was founded in 1913 by Robert Bamford and Lionel Martin as 'Bamford & Martin Ltd' and took on the name of 'Aston Martin' the following year, using Lionel's last name and the racing stretch Aston Hill Climb in Buckinghamshire as inspiration. Ever since the brand's earliest models competed in the 1922 French Grand Prix, the brand has progressed no end through the ages. The early 1960s were landmark years as the revered Aston Martin DB5 entered production in 1963 and scooped the prestigious honour of being driven by the one and only James Bond in the iconic 1964 film Goldfinger. Today, the brand boasts multiple strings to its bow, offering the ultimate luxurious lifestyle with its range of luggage, accessories, clothing and homeware.
Explore Aston Martin Homeware
"Luxury is not constrained by scale," according to Design Director Marek Reichman. True to Reichman's words, the brand's small home accents are crafted with just as much meticulous attention to detail as its sizeable supercars. Its creations, many of which are limited edition, are formed from a high-impact hybrid of man and machine, using handcrafting techniques as well as top of the range technology. It's the engineered excellence that is dedicated to each design, alongside the use of high-calibre materials, that makes Aston Martin homeware utterly attention-grabbing.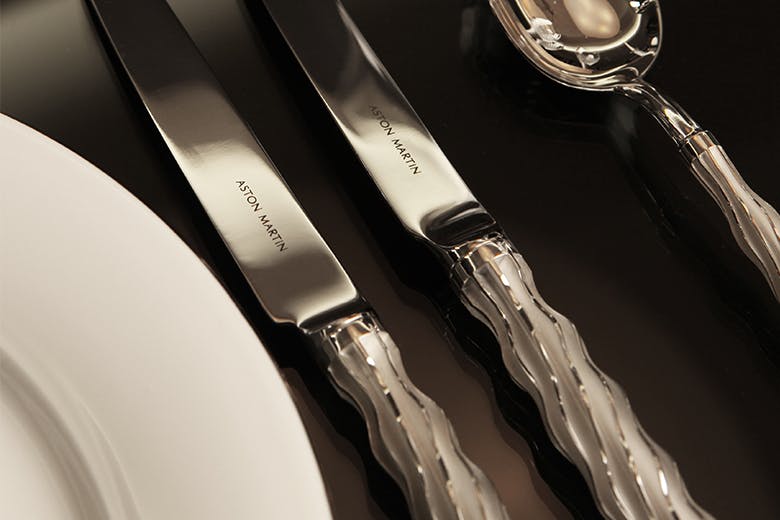 Delectable dining accessories
Luxurious dinner party accessories are must-have investments for every home and the brand certainly doesn't hold back on offerings in this department. Aston Martin's silverware celebrates style and substance, and includes entertaining essentials such as serving platters, cutlery sets and napkins rings crafted from hallmarked sterling silver. Its silverware collection is built on a foundation of streamlined design, perfect finishes and confident simplicity. Exquisite bone chinaware, from generous dinner plates to dainty espresso cups, also take a spot on the brand's menu of luxurious dining delights.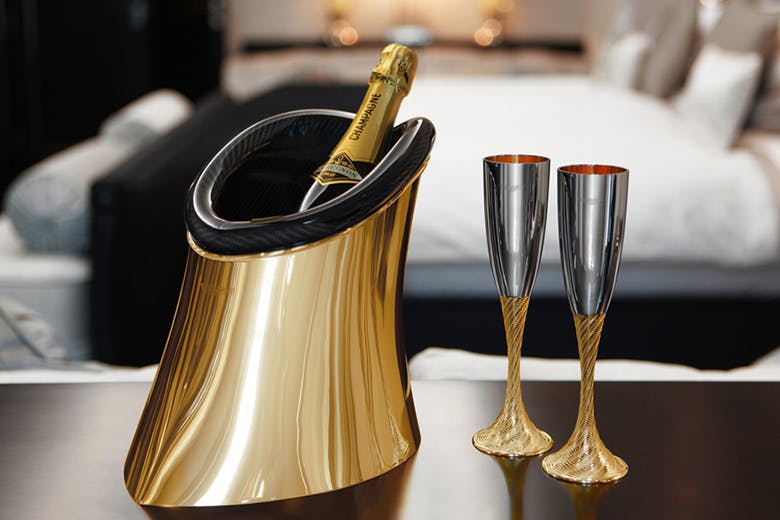 Desirable drinking accessories
Giving homeowners an all-access pass to the title of host or hostess with the mostess, Aston Martin also excel in out-of-this-world drinking designs. Traditionally shaped hi-balls, wine goblets and tumblers are flattered with a cool, contemporary metallic finish. Decanters and elegant stemware are crafted from crystal and often hand-cut, taking tactile design cues from the carbon fibre used in the brand's high-performance automobiles. As if all that wasn't enough, fine bone china mugs are accented with geometric platinum detailing.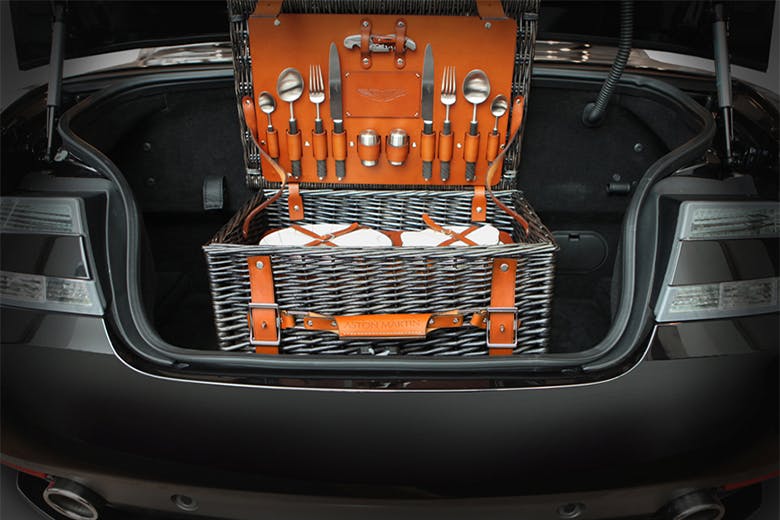 Handsome home accents
The home pieces have undoubted potential to be every man's best friend and make ultra-special gifts for him (and often for her for that matter). Beautiful wicker picnic hampers, formed with saddle leather, pure Scottish lambswool and Irish damask linen are the most luxurious solution to enjoying a gastronomic trip in the great outdoors. Cufflinks, complete with the brand's iconic wings motif, chrome-coated pens and silver-plated candlesticks are sure to chart the gift wish list of those with a penchant for quality. Finally, world-class champagne flute sets, crafted with 24-carat gold, signify just how outrageously high-class Aston Martin truly is.